Bathroom Vanity Buying Guide
May 20,2023 | Bonitallbathroom
While it's certainly not the easiest decision you must make during your bathroom remodel, it may be the most important—choosing the right vanity. Not only will your vanity provide storage for accessories, it also will set the tone for the new design of your space. There are many questions that you will ask yourself in regard to what you want and what you need once you realize that there is a staggering variety of styles, sizes, materials, shapes, and configurations on the market. This buying guide will provide a wealth of information to make your shopping experience less overwhelming, more fun, and relatively simple.
How Will The Vanity Be Used?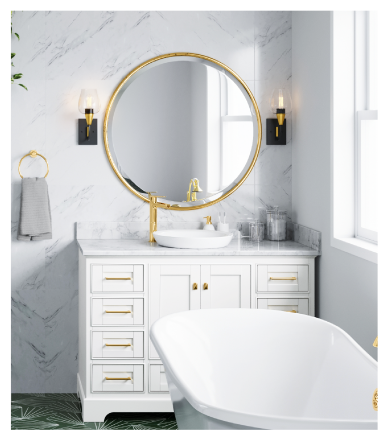 The bathroom layout will determine the size of the vanity that will fit into the space. ‌
Stuffing a large vanity into a small bathroom is not ideal for space utilization, and a small vanity in a large bathroom may get lost in the design or not be a useful storage solution. ‌
It is important to decide what the non-negotiables are in your bathroom. Do you value countertop space or storage? Is style more essential than functionality? While our bathroom vanities offer many of these characteristics, choosing the right vanity is critical since it will most likely become a long-lasting piece of furniture in your home.
‌When deciding on the size, think about how the vanity will be used. If you are remodeling a primary bathroom, a double-sink vanity may be the best option to offer separate areas in a shared space. Double vanities are generally between 60 inches and 72 inches in width, but you will find some as small as 48 inches.
‌If renovating a guest bath, you likely need a single-sink vanity, which typically ranges in width from 18 to 48 inches. For small bathrooms, a corner, wall-mount, or narrow-depth vanity is the key to effectively utilizing your space.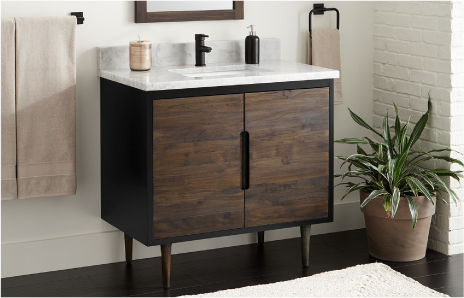 ‌If storage is a high priority in your bathroom, try a vanity with ample cabinet space.
Use drawers to house and organize daily essentials that clutter your countertop. Decide what is most important to you in a vanity's layout, and keep that in mind while browsing our products.
In addition to deciding whether you would like a single bowl or double-bowl vanity, you will also need to determine the type of sink that you would like. Most vanities will only work with certain sink types due to interference from doors and shelving, so knowing what type of sink you're going with as well as what each vanity will allow is important.
Measure Your Bathroom Space
These sinks sit halfway into the counter top, leaving the top half of the sink exposed. They are a perfect blend between undermount and vessel sinks for those who want to make a design statement without the height of a vessel.
Before looking for a new bathroom vanity, measure for the size you need. If replacing an existing vanity, start by measuring the vanity that you are removing to use as a comparison. A common mistake people make is measuring only the width of the cabinet (from left to right) but not the depth or height. Standard widths for vanity cabinets are 24, 30, 36, 48, 60 and 72 inches, however, you may find some in-between sizes out there. The standard depth of a vanity, from front to back, is typically between 20 to 21 inches. However, there are narrow depth options available which are usually 18 inches.
While there isn't necessarily a standard for vanity height, you will typically find them in the range of 32 to 36 inches tall. If vessel sinks are in your plan, you may want to look for a vanity on the shorter end of the range since most vessel sinks will add an additional five to six inches to the overall height.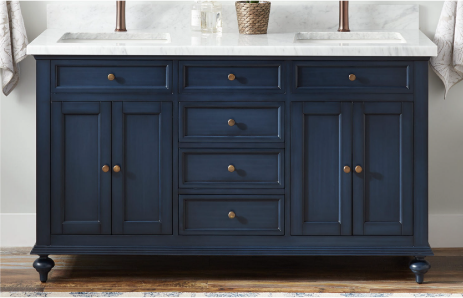 Comment