Types of Vanities Finish Your Bathroom Vanity With These Options
May 20,2023 | Bonitallbathroom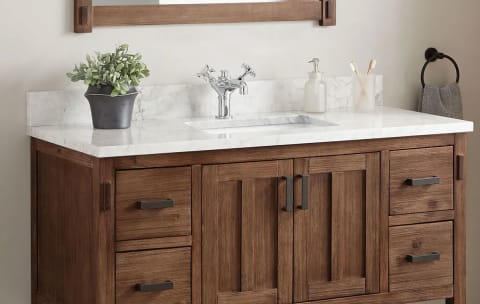 With a variety of options to choose from, make sure your vanity complements your space and lifestyle. Determining what you need in terms of storage, accessibility, and shape will help you narrow down which type will best fit your bathroom.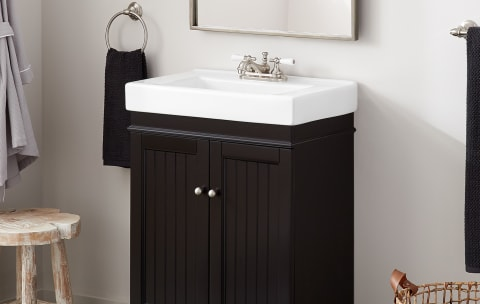 Wall-Mounted Vanities
Also known as "floating" vanities, this type mounts directly to the wall with no support from the floor. Wall-mounted vanities are great at providing a clean look and saving floor space. Mounting your vanity will elevate the design of a small bathroom and create extra space for items such as baskets and organizers. Additionally, many wall-mounted vanities fall in-line with ADA (American Disabilities Act) compliance.
Freestanding Vanities
This is the traditional, or the most common type of vanity available. Freestanding vanities rest on the floor, and are secured to the wall via mounting screws for stability. These vanities can easily hold one or two sinks, and feature storage space along with stylish colors to match any design.
Console Vanities
If you are wanting to create a more open concept in your bathroom, consider a console vanity. The modest design provides an airy, simple look for those who do not want a large cabinet filling their space. Our selection features stylish legs and open storage for bathroom necessities and range from 24 to 72 inches and can accommodate a single or double sink option.
Corner Vanities
The perfect compromise for fitting a vanity into a very small bathroom. These space savers provide the storage that you need, enabling you to be more flexible with other projects within the bathroom. ‌
Sink Variations Vanity Styles
As the centerpiece of your bathroom, your vanity represents the overall design you want your space to have. Select a style that fits your aesthetic for a tailored look.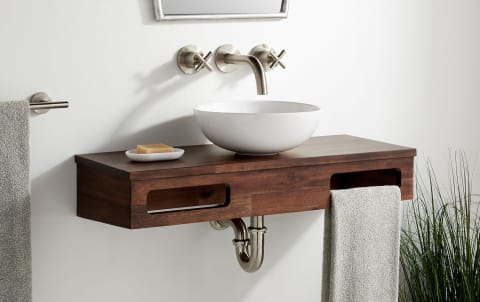 Rustic Vanities
This design of vanity creates an organic, all-natural look by using reclaimed—or reclaimed looking—wood. Rustic vanities achieve a lived-in look by using warm stains, metal accents, and intentional blemishes.
Modern Vanities
Craftsman Vanities
Modern vanities are perfect for contemporary remodels, as they feature clean, straight lines and a simple appearance. These vanities are made with a variety of different colors and materials, including metals such as stainless steel and aluminum.
Clean lines and simple construction give the craftsman design a custom-built appearance. Typically made of heavy, solid woods such as oak, these mission-style vanities usually feature a natural stain to expose its grain. Solid bronze, brass, or iron hardware is generally used to complete the artisan appearance.
Mid-Century Modern Vanities
Cottage Vanities
This style of vanity features a combination of delicate carvings, louvered panels, and bead board, which help to embrace classic farmhouse-style appeal. Cottage-style vanities are painted in soft, neutral tones which pair well with weathered or painted hardware.
The mid-century modern style has evolved from the mid-20th century to simple, yet functional furnishings made of wood. For a more traditional look, browse our options of mid-century bathroom vanities, available in a variety of washes and colors to brighten any bathroom in your home.
Industrial Vanities
Traditional Vanities
For a more practical and modern look, browse our industrial-style bathroom vanities that pair well with minimalist and rustic aesthetics. The industrial look blends chic style with functionality by blending natural and manmade elements to ultimately create a sleek statement piece in the washroom.
This design encompasses features that you would find on classic furniture. Traditional vanities are painted or stained with a variety colors ranging from brown to white tones, and feature more ornate detail, such as turned or cabriole legs, scalloped edges, and hardware with intricate designs.
Shaker Vanities
The principles of shaker design are similar to mission in that they value clean, simple lines with no ornate details or features. Where the two designs differ is that shaker tends to feature round hardware, gentle curves, and slim, tapered legs. These vanities are also usually made of a lighter-weight wood such as pine or maple.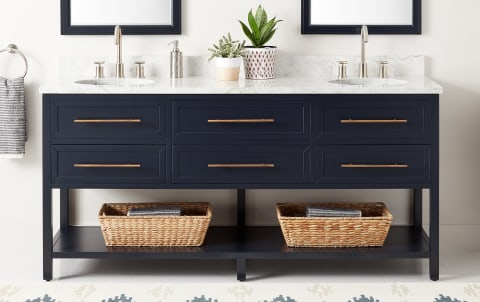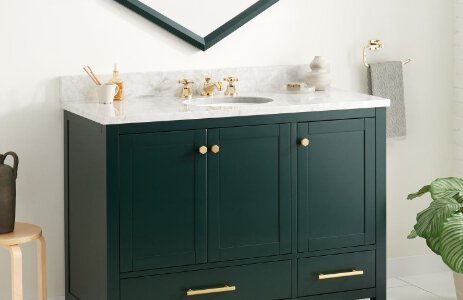 Glam Vanities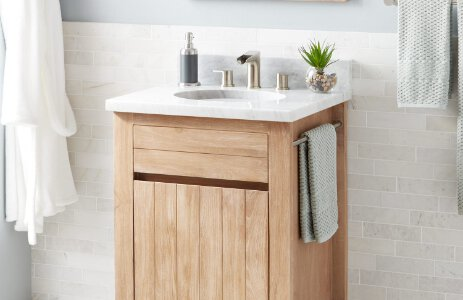 If you are looking for a design moment in your bath, look no further than a glam-style bathroom vanity. From hunter green to blush, we offer vanity cabinets that fit any space. Express your creativity by mixing and matching a fun-colored glam vanity with a modest countertop or decor. With several drawer and door options, choose the bathroom vanity of your dreams.
Farmhouse Vanities
Bohemian Vanities
Create a warm and welcoming space with a farmhouse-style bathroom vanity. With several color options and designs available, choose from a single or double-sink vanity for additional counter and storage space. Shop our popular
Morris console vanity for a textured and rustic wood-look balanced with a modern vanity top and hardware.
Bohemian design is all about mixing textures and colors for a more eye-catching look. Choose a bohemian-style bathroom vanity as the focal point of the room and pair it with neutral bathroom elements for a cohesive space.
Art Deco Vanities
Art Deco bathroom vanities emanate a modern style with a focus on natural wood grains and contrasting colors for a bold design. This vanity style refers to furniture design from the 1920s and 1930s with geometric patterns, a glossy finish, and inlays of other materials. This vanity style is versatile, glamorous, and pairs well with lighter or darker-colored powder rooms for a dramatic look.
Coastal Vanities
Let your guest or primary bath feel like a beachfront oasis with a coastal-style bathroom vanity. Give your washroom a fresh feel with a cottage white coastal cabinet against a bright colored wall, or a vintage navy blue vanity, paired with crisp white shiplap to complete the design.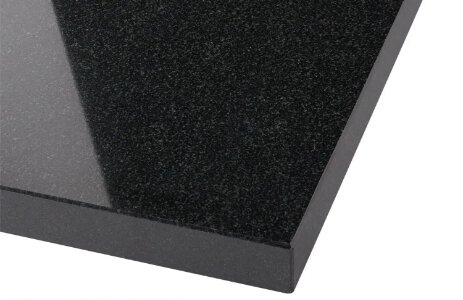 Vanity Color and Finish Options
Trough sink tops, also known as integral sink tops, double as a counter top and sink all in one. These sinks create a clean, seamless look and are typically made of white porcelain, different types of stone, and even concrete.
Vanity Top Materials
Aside from the vanity cabinet itself, the accompanying vanity top is an important aspect of the design experience. With materials ranging from carrara marble to black granite, browse our wide selection of vanity top options that will complement any style.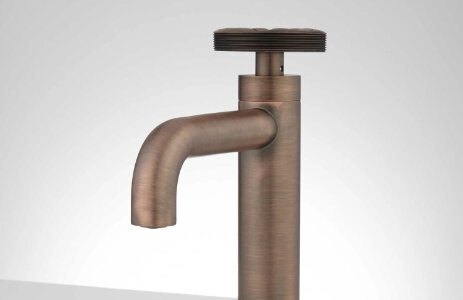 Bathroom Hardware
Bathroom hardware can make all of the difference in your space. Add gold hardware to compliment a dark hued vanity, such as navy blue or matte black. You can also shop our chrome, brass and black hardware designs to compliment any color scheme in your washroom.
Bathroom Faucets
With faucets that radiate style and functionality, our vanity tops come with predrilled holes to help minimize the process and make for easy installation. Choose a waterfall faucet or a polished brass modern faucet to complete the vision for your powder room.‌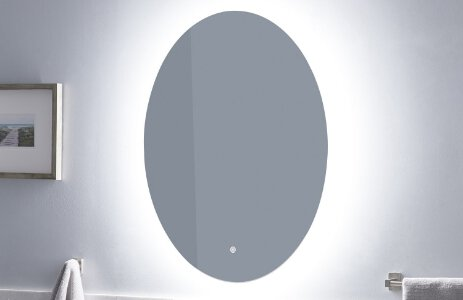 Medicine Cabinets
For extra storage in a small bathroom, a medicine cabinet is the perfect choice for tucking away smaller items, while still having them readily available for quick use. Our mirrored medicine cabinets come in an array of styles. Choose from an oval or square lighted mirror, or one with wood framing around it for an extra design element.
Bathroom Mirrors
A bathroom mirror is an essential part of the vanity buying process as it is functional and stylish. Browse our selection of bathroom mirrors from framed to pivot to LED lighted, to help prepare for each day. ‌
Know Your Bathroom Layout
Whether you are working with a contractor or doing the work yourself, it is good to know where the other existing features of the bathroom are located, such as the plumbing, windows, doors, electrical switches, and outlets. For example, a bathroom vanity connects the sink and faucet to the house water lines, which means any new vanity should have enough open area to fit around the pipes, plumbing, and electrical wiring without causing restrictions.
Rerouting the plumbing and electrical wires could be an expensive addition to your renovation's budget, therefore it is an important factor for both the look of the finished room and the cost while designing it. Finding a vanity that fits your current space and layout saves on the overall time and money required to complete your bathroom update.
Organic Modern
As a forward-looking trend, the organic modern style knits together neutral palettes and clean lines, along with natural textures for a cozy yet refreshing space. If you're yearning for a minimal design element that beautifully balances comfort and style, look no further than an organic modern bathroom vanity.
Comment